Introduction to Liquor Licensing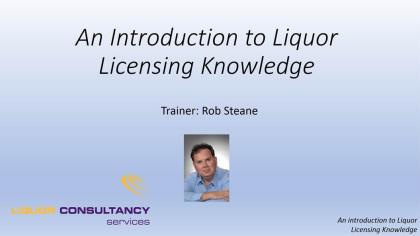 Liquor licensing training has been mandatory since 2004. The hospitality sector has seen massive changes since then. For this reason, Liqcon has developed an on-line introductory and refresher course. The content is based on the approved VCGLR course "Achieve Liquor licensing Knowledge " and provides similar information that is desirable for those in management positions within the licensed hospitality sector.
Online Course Information
The on-line course will take the average person about 90 - 120 minutes to complete and can be done in the comfort of your home or business at a time and at a pace that suits you.
Licensees may also wish to have their site or duty managers undertake this training in order to give them the knowledge and skills to operate venues in a compliant manner, knowing that the on-line course has not had to take them away from their important duties.
This refresher course should (ideally) be undertaken every 3 years in order to stay up to date with law changes and best practice.
PLEASE NOTE: This is NOT the approved New Entrant Training Course, it is simply an easy to understand introductory and refresher course. Licensees and Nominees will be required to undertake New Entrant Training.
Should you require any additional information, please contact us to discuss.
Cost: $45.00 for 7 day Access
Contact Us
If you have any questions or need advice about the legal side of alcohol licensing please email us or call 1800 547266