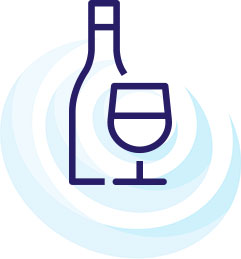 Your full service liquor licensing business
RSA & New Entrant Training available via Zoom or on-line.
We offer New Entrant Training as well as Responsible Service of alcohol (RSA) training. We have been conducting Webinars since 2018 and have developed our sessions, specifically for webinar users. We use Zoom to undertake our training sessions.
Of course, both our courses are also approved to be undertaken on-line and at your own pace.
We are Victoria's only one-stop-shop when it comes to liquor licensing in Victoria.
Our experience in dealing with liquor licence applications allows as to make your process seamless, with expert Town Planners, to experienced consultants, Building Surveyors, and draftsmen - we will give you the best chance of being successful in obtaining your licence.
Despite our big resources, we still have that small business feel so you don't feel overwhelmed or overcharged.
We have been assisting the industry for over 20 years and have industry leaders with vast experience.
As a registered training organisation (RTO 21718) for over 15 years, we pride ourselves on being at the forefront of liquor licensing training. Our trainers are industry leaders - staff who have previously worked in the industry, or as members of the Victoria Police - all who know their stuff. We provide accredited training (both through public and individual courses) in Responsible Serving of Alcohol and New Entrant Training, utilising Victoria's most experienced trainers. Distant learning, through webinars (using Zoom) is a feature of our delivery.
Our expertise is used by licensees to ensure non-compliance is reduced and that attention by the Police and the LCV Liquor Inspectors is minimised.
All of our staff have expertise in their own fields, which combine to enable us to offer seamless liquor licensing experiences.

Have Any Questions?
If you need help with anything please get in touch with us by calling 1800 547266 or OUTSIDE TRADING HOURS, by filling in our contact form. We're happy to help.